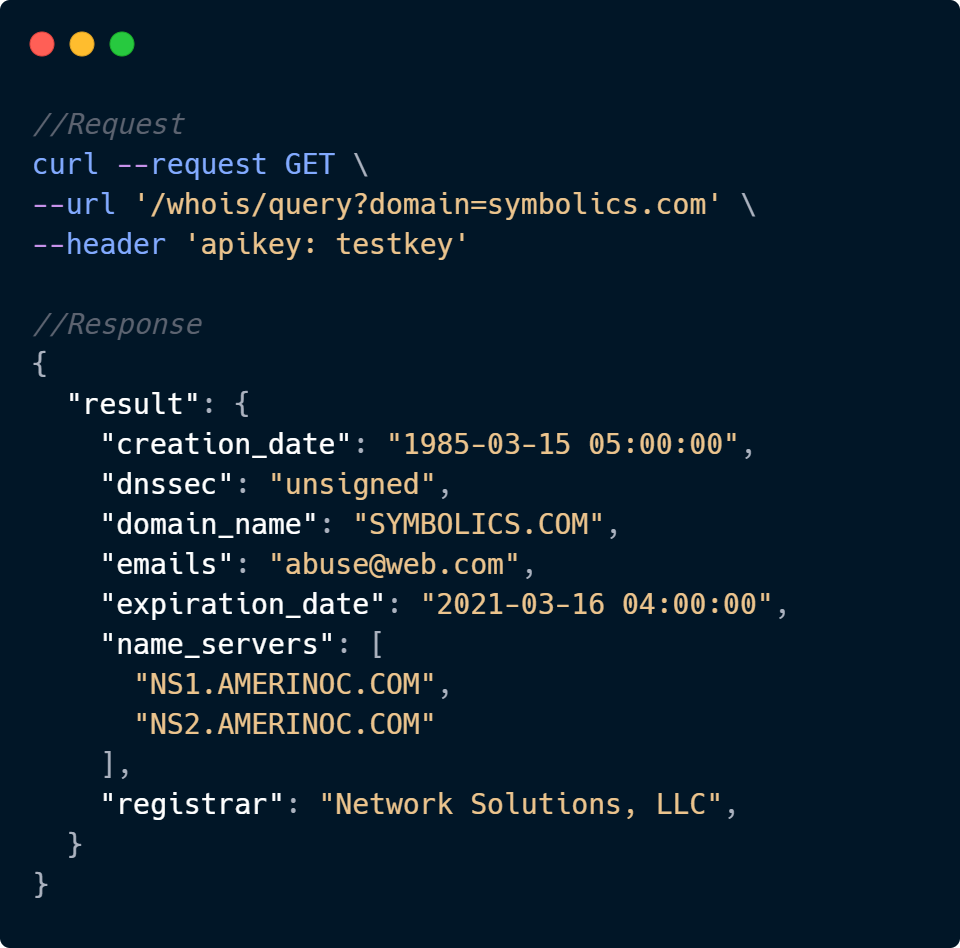 A domain name is the first essential of your website. It is how people will discover you online. Whether you want to build your own free domain discovery platform or just trying to check thousands of domains' availability for any reason, Whois API will help you to do so.
In addition to checking the availability of the domain name, Whois lookup provides registration information of the domain, such as the expiration date, registrar, registrant information.
Whois records help in various ways. Here is the couple of the them:
To check if the domain name is available for registry
The simplest usage of whois database is to see if the domain name you want to own is available or not. With the Whois API you don't need to think about rate limits and other nasty stuff. It will handle them professionally. You'll just get the results.
What if your business name has been taken as a domain name by someone else?
Online presence is becoming the key factor to the success for many businesses. Having the business name as a domain name helps to create brand awareness, and remove confusion for your customers. If for some reason, you haven't registered your business name related domains, a quick search with Whois API will provide you the registrant and registration information of the domain and how to contact him (query returns email address). This way you can contact the domain owner and see if there is a potential that they can sell it to you.
Monitor abuse that is caused by TLDs
When you register a domain, it is worth spending time to check if the same domain name with other tlds (.com, .io., .net ..etc) are available as well. This is crucial for businesses. You should try to register every tld to ensure your brand will be safe. Don't forget to redirect all your tlds to your original website so people who visit them end up in your main website. If you disregard those points, you might face problems like:
Competing with another website that has the same domain but different tld
Losing your customers (worst could be to a competitor!) as they might end up in the other website without realizing it is not yours
Damage your brand reputation if other extensions have completely different purposes.
It might cost you a lot as there are 'smart' people registering some of those missing tlds and trying to sell them with higher rate
TLDs supported
Whois API is providing extensive variety for tlds. TLDs currently supported are as follows:
.com
.me
.name
.net
.org
.sh
.io
.co
.club
.biz
.mobi
.info
.us
.domains
.cloud
.fr
.au
.ru
.uk
.nl
.fi
.br
.hr
.ee
.at
.ca
.sk
.se
.no
.il
.cz
.it
.in
If you wish us to support another extension, just let us know at [email protected]
Client Libraries
We have ready made packages for the following platforms (More is on the way):
If you haven't found your domain name yet, we have another API that can help you to discover potential domain names and validates if they are available through the Whois database.