SportScore API is a service that allows you to view online match results and detailed statistics for the following sports:
Football
Basketball
Tennis
Hockey
Volleyball
Handball
Real-time data: live-score, table score (tennis), game incidents (substitutions, corners, cards).
We have detailed statistics on tournaments and cups, from the Youth League to the UEFA Champions League. You can see the results of matches, the standings and the schedule of team performance (UEFA Champions League, UEFA Europa League, Premier League, LaLiga, Serie A, Bundesliga, Ligue 1, Primeira Liga, Premier Liga).
Online and live match results are available in real time.
The following data is available for football matches:
team statistics,
series,
referee
starting lineups before the start
Structural Scheme of the API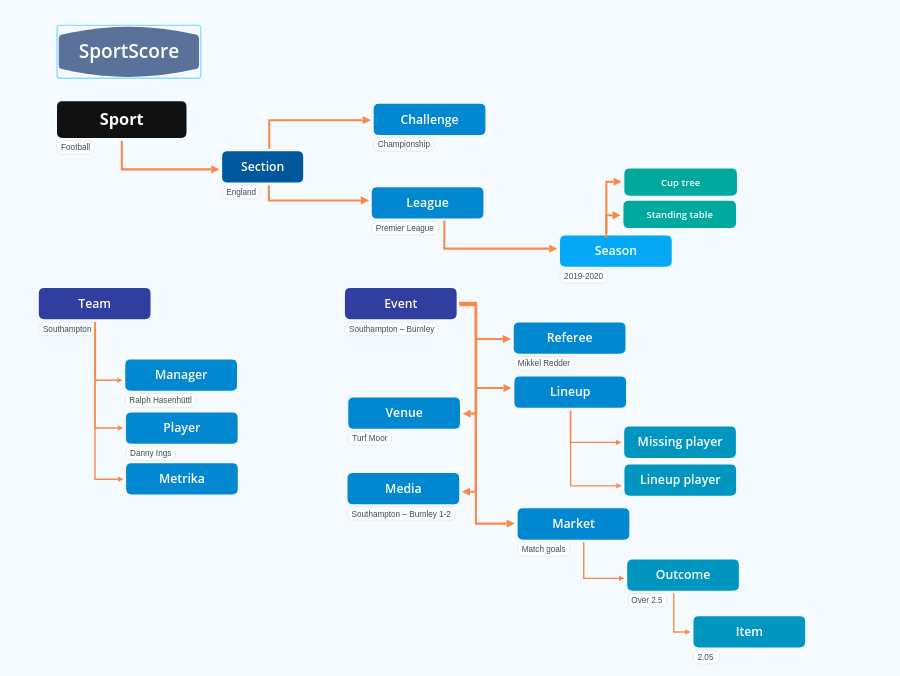 Coverage
Sports: 6 (Football, Tennis, Basketball, Ice Hockey, Volleyball, Handball)
Leagues: 8 300
Teams: 65 474
Players: 193 691
Supported Locales
Main locale: English en
English en
Russian ru
German de
Spanish es
French fr
Chinese Simplified zh
Turkish tr
Greek el
Italian it
Dutch nl
Portuguese pt
Player Position Keys
basketball
"C" => "Central"
"CF" => "Center Forward"
"F" => "Forward"
"FC" => "Heavy forward"
"FG" => "Shooting guard"
"G" => "Point guard"
"GF" => "Small forward"


football
"C" => "Central Forward"
"D" => "Defender"
"F" => "Forward"
"G" => "Goalkeeper"
"M" => "Midfielder"

hockey
"C" => "Central Forward"
"D" => "Defender"
"F" => "Forward"
"G" => "Goalkeeper"
"L" => "Left front forward"
"R" => "Right front forward"